About APAEON
The Asia Pacific Agricultural Extension and Outreach Network (APAEON) was established in December 2014 to contribute to a enhanced linkage between agricultural research and extension to promote sustainable food systems and improve the productivity in the region. The main goal is to achieve food and nutrition security in the whole Asia-Pacific region.
The Expert Consultation on Strengthening Linkages between Research and Extension to Promote Food and Nutrition Security, held in Bangkok on the 11th and 12th of December 2013, can be seen as the starting point for APAEON.
"Agricultural research is for innovation, not just for publication. We need to share experiences and develop a roadmap on what we can do."
(Mr. Raj Paroda, APAARI)
The event was organized by United Nations ESCAP CAPSA and FAO in collaboration with APAARI and SATNET Asia. It involved government officials, experts from NGOs, CSOs, the Private Sector as well as International Organisations. The aim of this expert consultation was to assess the current status of research and extension and their linkages in the Asia-Pacific Region to identify existing and upcoming challenges but also to highlight the opportunities resulting from those fields. In his opening speech Mr. Hiroyuki Konuma emphasized the current and upcoming challenges for the agricultural sector in the Asia-Pacific region and how research and extension can be a part of the solution:
"The sustainable intensification of production for crops, livestock, fisheries and forestry needs to be supported by more effective and efficient research-extension services within the shortest time to face these challenges."
(Dr. Hiroyuki Konuma, FAO)
Agricultural research and extension systems have changed over the time from a top-down approach to a more interactive model which considers all involved stakeholders and their interrelations. With this new system approach it is necessary to integrate all concerned stakeholder, especially farmers, into the process to guarantee a successful implementation. Katinka Weinberger from CAPSA-ESCAP Indonesia therefore describes the new role of agricultural extension as a broker between famers and researchers. This requires particularly the share of knowledge as well as the building of capacities to address this issues.
"Nobody can deny that research and extension are highly significant. Unprecedented improvements have been seen, especially in Asia and Pacific."
(Amie S. Wesley, IDRC)
As a result of this expert consultation an Action Framework was developed to address the issue of strengthening the linkages of research and extension in the region. A main outcome, mentioned in this framework, was the intention to establish an Asian-Pacific regional network for agricultural extension service with a focus on enhancing the research and extension linkages.
Furthermore in 2014 during the 32nd FAO Regional Conference for Asia and the Pacific, held in Ulaanbaatar, Mongolia, it was noted that there is "the substantive potential to enhance cooperation within, and with other regions through South-South cooperation, employing local expertise whenever possible and taking advantage of the capacity that exists within the region in the field of agriculture and food security, and in particular through establishment of a network of regional agricultural research and extension institutions."
One year after the expert consultation on the 15th of December 2014 the "Asia Pacific Agricultural Extension and Outreach Network (APAEON)" was launched at the FAO Regional Office for Asia-Pacific in collaboration with UN CAPSA-ESCAP and APPARI under the presence of the Thai ministry of agriculture.
The network includes governments, international/regional organizations, NGOs/CSOs and the private sector from the whole Asia-Pacific region. All of them dedicated themselves to strengthen the linkages between research and extension in the agricultural sector and to contribute to food and nutrition security as well as the enhancement of smallholder farmers livelihoods.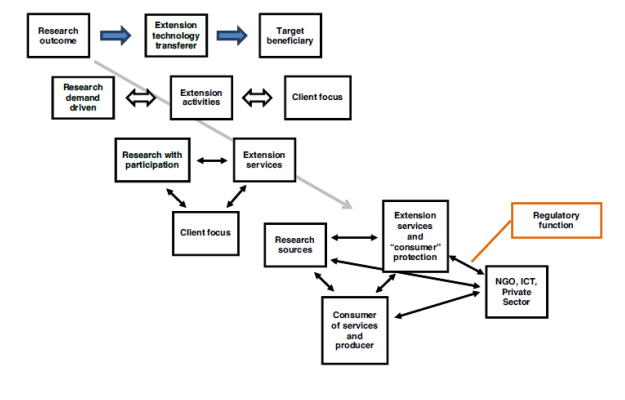 Goals and Objectives (Vision & Mission):

The Asia Pacific Agricultural Extension Outreach Network (APAEON) dedicated itself to the strengthening of agricultural research and extension linkages to achieve food and nutrition security in the region. Four areas of action have been identified among the APAEON members to achieve this goal:
Share knowledge and experience among members
Promote mechanisms for research-extension and outreach linkages ensuring research results are effectively utilized for sustainable agricultural production and productivity growth
Identify and implement common priorities for joint actions
Promote collaboration and team work among concerned institutions for concerted efforts
APAEON is managed by one Chairperson who is elected every three years on a rotation base from one of the member countries. He is supported in his duties by two Vice-Chairperson, a Secretariat and the APAEON Executive Committee. One Vice-Chairperson is elected from one of the member countries the other one from an associated member organization. The executive committee consists of six experts in the field of research outreach and extension. The experts, one each, are coming from South Asia, Southeast Asia, East Asia, the Pacific member countries as well as a NGO and an international/regional associated partner. If necessary, a specialized committee can be established to work on a specific topic.
Decisions with the Executive Committee are made by consultation and in case of votes, simple majority, with members present or represented. Voting is used only as a last resort and based on following procedures:

Participating countries have the opportunity to serve as Vice-Chairperson on a rotational basis
With written power of authority, members may be represented at meetings by another member
Meetings of the members are convened annually by the Chairperson or on request of at least twenty percent of the members. APAEON members are also working closely together through video conferences, Skype, e-mails and other communication channels. Meetings are tried to be hold in conjunction with other events but in case of emerging issues the Chairperson may seek concurrence for convening an extraordinary meeting.

For the annual meetings all members receive a notification at least one month prior and necessary documents at least two weeks prior. Decisions during a meeting, except of the application for membership and the election of the Chairperson and Vice-Chairpersons are taken by a minimum participation of half of the total number of participating countries.

Travel costs to attend meetings and APAEON events are financed by the members. In exceptional cases, funding support may be provided according to availability. The general operational cost for APAEON are covered by voluntary contributions of the members and the hosting institution. The APAEON accepts sponsorship, financial contributions and donations for joint activities as appropriate.
Structure – Chairperson:

The Chairperson is elected every three years from one of the member countries. Him or her presides APAEON meetings and ensures that the procedures and decisions of the members are properly implemented. He or she is responsible for all task which are required to facilitate the work of APAEON including:
Facilitating cooperation between members of the APAEON
Providing oversight of the planning of meetings
Coordinating meetings
Approving of protocols of meetings
Participating, on behalf of APAEON members, in meetings
Publicizing the work of the APAEON
Requesting specific functions to support the work of partners
Performing other functions as may be required to facilitate the work of APAEON
List of Chairpersons:
Assistant Director General & Regional Representative, Food and Agriculture Organization of the United Nations, Regional Office for Asia and the Pacific

Structure – Vice – Chairperson:

The Vice- Chairpersons are elected on a three year rotation base. One Vice-Chairperson is elected form the member countries, the other elected from an associated member. Beside the tasks delegated by the Chairperson, the functions of the Vice-Chairpersons include:
Coordinating meetings in the absence of the Chairperson
Monitoring progress of the work plan
Assist in publicizing the work of the APAEON
Performing other functions as may be required to facilitate the work of the APAEON
List of Chairpersons:
India and Asia Pacific Association of Agricultural Research Institutions (APAARI)

Structure – Secretariat:

The Chairperson and the Vice-Chairpersons as well as the whole APAEON is supported by a Secretariat. It acts as a nodal point for networking and as a liaison point for the members in relationship to activities that ensure greater participation, coherence and impact. In providing Secretariat services, the following operating principles will be applied:
Operate as a support mechanism of the Chairperson on behalf of the members
Build on existing relevant databases and platforms
Draw on the existing capacities of APAEON members
Draw on knowledge and expertise of APAEON members
Add organizational and technical value to the APAEON
Ensure full transparency among members in the operation of the APAEON
To support individual and joint actions of the APAEON members the Secretariat provides the following services:
Develop a draft annual work plan in close coordination with the members
Coordinate the implementation of agreed activities within the programme of work
Act as a focal point for information dissemination and communication among the members
Maintain the APAEON website for the efficient and prompt sharing of information
Assist the Chairperson in convening meetings of the APAEON with all related tasks
Assist with the preparation of background documents for APAEON activities
Establish and maintain a calendar for relevant events and meetings
Manage any other APAEON outreach activity upon agreement by the members
Structure – Executive Committee:

The executive committee consists of six experts on research and extension outreach from the APAEON members. The experts will be selected one each from South Asia, South East Asia, East Asia and the Pacific member countries. The other two experts will be drawn from an associated member partner as well as a non-governmental organization.

Executive Committee:

2015 Members

APAARI (Vice Chair)
India (Vice Chair)
Bangladesh (South Asia)
Indonesia (South East Asia)
Fiji (Pacific)
Asian Farmers Association (NGO/CSO)
CAPSA (International Organization)